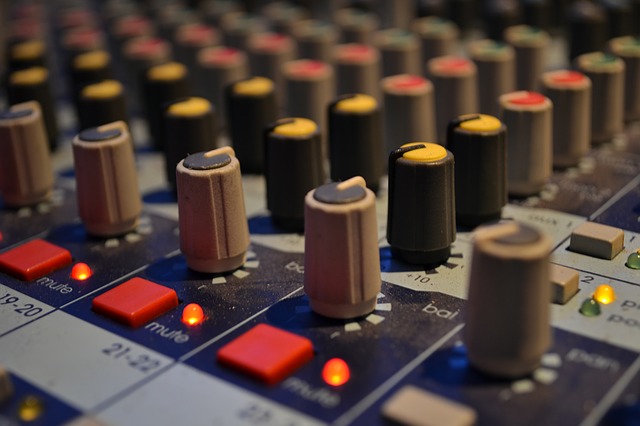 4 Steps To Start Making Money As An Audio Engineer
Learn How To:
-Get Your Foot In The Door
- How To Find Opportunities And Work
- How To Find Artists To Work With
- How To Price Yourself
Jon Moon is known for having worked with artists such as Amy Winehouse, Roger Waters, Cat Stevens and many more and has been certified three platinum albums. He currently works in Sensible Music, North London where he produces and engineers for artists all around the world.
However, Jon's dreams as a child were quite different. At age 5, Jon was dreaming of becoming an actor and started attending drama schools which he found some success at, although much to his parents dismay because working in the entertainment industry was not a 'proper job' in those days.
Being fascinated by technology, Jon took his parent's gramophone apart trying to find out how it all worked, "I was fascinated by the needle on the record, that was magic. I just had to understand it". Eventually putting his mind on tape recorders.
As a child, Jon was also really inspired by his mother, who was a school music teacher and member of the highly regarded Bach Choir.
Jon: "She could break a glass with her voice. I remember one night, my mom returning home after a late night session all very "hush-hush". Turned out they had recorded some tracks with The Rolling Stones for the album "Let It Bleed". There she is reminding me "You Can't Always Get What You Want".
As a pubescent teenager, Jon suddenly began to feel embarrassed being on stage and started gravitating towards music, "I was knocked out by the music scene at the time. It was a real revolution and an inspiring time".
When Jon was 17 his father sadly passed away, making him throw himself into music and really learn how to play the guitar and other instruments. Also, the technology at the time was moving really fast and he had a 4-track cassette machine where he would make his own mixtapes, songs and demos.
Jon eventually got signed to a production company called Monroe, who put him in a studio to record a few demos. He got the studio for the night but when he arrived there was no engineer. Jon remembers looking around at what gear they had, "Early things like emu sampling keyboards and an analogue desk. I already had the feeling of being able to "talk" to the machines and had an understanding of what I wanted to do". Although those particular songs never saw the light of the day it was the beginning of the learning curve for his music production skills.
How did you respond to those early challenges? With your father passing away and not knowing what was going to happen?
Everything that happened to me as a young boy prepared me psychologically to be calm when the situation isn't. I'm not saying I didn't panic or fuck up but if you can visualise beforehand what should, or what could happen, then it prepares you. Mentally preparing oneself and being able to visualise what you are going to do, whether that's a studio session or a live gig has been important to me. That's been a coping mechanism and a good vehicle to success in sessions and in multiple scenarios. Its been a handrail to get through things.
Obviously, there have also been occasions where it can go horribly wrong and you have to learn to swim and think on your feet because there is no other choice. What are you going to do? You are either going to die or live. I know it's not life and death we are talking about here, it's music, but it can feel like that.
It's all very easy for someone who's had the blessing of circumstance and by that, I don't mean I was born with a silver spoon or that had the money, or someone managing me because I didn't, it was just me. I did it for myself and sometimes with a little help from my friends. You make your own luck.
I consider myself very blessed in my career, but it has not come without hard work, commitment perseverance and vision.
What does hard work mean to you? (Discussing long, 20-hour, days)
Of course, that's hard work for anyone. Which I don't mind if I'm doing something productive, I can keep going, for as long as I'm enjoying it. It's rewarding. But that doesn't stop it from being hard work. We have worked together where there have been situations where we've need to comp all this in one hour, that's hard work. There are elements to everything you do, where you don't have time to enjoy it because you have tight deadlines to meet.
Also, the stress that comes with this type of work, where you don't know where the next meal is coming from, even if you have had a great month, what about next week, what about next year. Those kinda of insecurities that come with the entertainment business in general, is hard work.
The studio life and the entertainment business is, in general, more mentally challenging than physical, do you have any techniques you use to cope with that?
Meditation. And that's not to say that I "ohm" every day, or even every week or even every year. But on a pretty regular basis, I'm doing that subconsciously.
Which kind of meditation?
Astral Projection, which was the first time I realised the power of meditation. But I don't consciously try to do that so much, it's a more subconscious practice and discipline That also brings me back to being able to visualise what you are going to do, which is part of my meditation technique. Also, the music itself, or the project itself becomes a meditation practice. It's a balance, without the stress, you wouldn't be able to balance it with the calmness perhaps.
If you lost focus or felt overwhelmed on a mix or in a session, what have you felt helped to regain focus in those situations?
You train yourself to be focused. If I'm in a situation where I can't hear or feel it, and it's not just working, I take a step back to get perspective and try again.
If you for some reason you can't get it to work it's better to stop and come back the next day. Sometimes that's much better than delivering something that doesn't work. However, when you are against deadlines, you can't do it tomorrow, they need it now. But the more you do it, performing on demand, you will find your ways of dealing with that.
You have been making records for many years now. Do you have any specific techniques on how to create certain moods for bands and artist so they can perform at their best?
Yes, but it's not always necessarily the same. However, you can use certain parameters that work, like being prepared or ready for anything. If you have a week of recording a band, where you could apply the same method to bring order to the overall sound. As in, we are going to record you like this, I need you to play it like this. Obviously, not everybody responds the same way and it's not going to work for everybody. It depends on the atmosphere and the mood. I think you find your own personal way of exercising a method. There are also certain technical methods that I tend to adopt that to help performers feel free
Any of those you like to share?
I think it's important to allow for the freedom of creation and not lock things down too quickly while giving them a canvas on which to perform onto. The frame being the studio, and the colour being the sound.
Know what you are aiming for before going into the studio. It's important to get respect from the people you are working with and in turn, they will feel relaxed, uninhibited and hopefully inspired.
One of my best sessions was assisting you a few years ago and I remember the vibe was awesome with a lot of creativity going around. How do you manage to get a session into that vibe and getting the musicians to relax with you?
It's a combination of what we have been talking about. You need a really good idea of who the artist and musicians are that you are working with. It works both ways in so many ways. I guess It's experience, being able to read people. They have to trust you to see the right vision. You gain trust by communicating with people. I treat the studio like my instrument so I want to play that in harmony with the people there to record.
The Amy Winehouse record Back To Black, that you worked on, became huge. How was the experience working with her and the whole team behind that record?
When I first met Amy, I only had a vague idea of who she was, Frank had just been released and she was sent to us by her manager.
That summer she had been writing with Mark Ronson in New York and we were running through the songs in studio 4. I was in there checking on a few microphone positions and I had put in a couple of nice microphones for her, such as a 47 MOSFET and a couple of Neumans but she turned and glared at me as if to say "who are you then" and said, "No no no, I don't want anything posh, just give me a 58, that's all I want".
Record companies would use us here in North London partly because it was more convenient than losing their artist to a residential studio for weeks, but probably also because of the stuff we had done for people like Roger Waters, Cat Stevens, Ms Dynamite and others.
We would send stuff back and forth to the label so they could monitor the material as it was going down and realise its completion.
With Amy, we had the most amazing band with Dale Davis on bass, Nathan Alan on drums and Sam Best on keys and of course her incredible background singers. It was all quite new and she was really on form. Those recordings are really superb.
Working with her defined me. And hopefully, in that process, I helped define her too.
Looking back on your career are there any, or several moments, that you thought: "This is heaven, can't believe I'm working with this artist/project."?
Ha! Well, I'm certainly blessed to work at something I truly enjoy. There have been moments, not, "I can't believe" moments, but I remember when the N-Dubz came out and I was simultaneously making records that were in the top 20 all year round that it was all happening at the same time and I said to everybody "I can see the light source of life, I can feel it shining through this building right here right now, I can feel it on us."
So, yes there have been moments where I thought this is pretty cool but they are shortly followed by the complete opposite. I think in life, whenever I feel happy or excited I better not because something horrible might happen to balance it. And invariably it does.
Looking at the other side of the coin, has there been any moments when you have thought that you can't do this anymore?
Never, though there have been extreme highs and extreme lows. I think you deal with it by not letting it be on top of either direction. Instead, harness the energy and use the power of emotion to tick the balance the other way, whichever way that is. I think it's great to feel great and feel on top of things, but sometimes when that feeling is extreme it can be quite scary because invariably it swings the other way.
What has been your best purchase for the studio for £200 or less?
I once produced a track and I wanted some really scratchy percussion, a real creepy sound, so I said let's go up to Hampstead Heath, we'll grab some food on the way and see if we can find something.
Don't know why I thought about the Heath, it was autumn and I found some branches to beat on a wooden board, but while I was looking, I found this, what looked like a small China cymbal, rusted car part under the earth and I brought it back. It was brilliant and I've used on several things since then.
Let me know what you think in the comments below and who you would like to see get interviewed next!